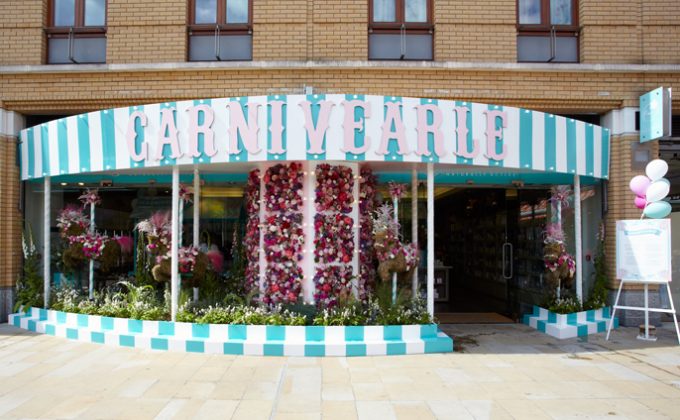 With just two days left of the floral spectacular that is the annual Chelsea in Bloom, the winner of the final award for 2016 has been announced. Following a tight race, the coveted People's Champion Award has been presented to Liz Earle, for their stunning Great British seaside inspired 'Carnivearle'.
The botanical installation is in line with this year's Chelsea in Bloom carnival theme, and inspired by the brand's Great British seaside heritage on the Isle of Wight where one of first carnivals in the UK took place in 1887.
Designed by leading floral stylist Willow Crossley and renowned set designer Angus Buchanan the store's extravagant display has used a palette of vintage-inspired candy colours, the centrepiece of which features a fairground carousel made entirely out of roses, carnations, hydrangeas, peonies, tiarella, foxgloves and delphiniums in a nod to the carnival theme of this year's event.
The award is renowned for being one of the most hotly-contended awards and has been voted on by members of the public across the week on the Chelsea in Bloom website and Twitter. This year was no exception with the retailers taking inspiration from Rio de Janeiro Carnival to create stunning and vibrant designs. From beautifully embellished sculptures, to an abundance of vibrant flowers and plants reminiscent of tropical jungles there was no doubt the streets where alive with colour this Chelsea in Bloom.
For anyone yet to visit the glorious floral-lined streets of Chelsea, there is a still a chance to get a final glimpse of the fabulously flamboyant displays. With the event continuing into the weekend, pop down and get ready to be immersed in the excitement of Rio as the 36 retailers display their exotic installations made of fresh flowers. This year has proven to be one of Chelsea in Blooms most spectacular and colourful themes yet so it's not one to miss!
 Find out more on www.chelseainbloom.co.uk