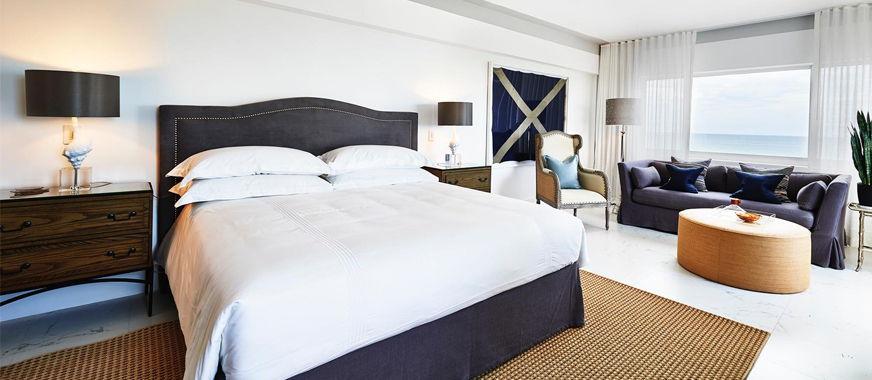 Located in the heart of Miami's thriving Art Deco District, Nautilus a SIXTY Hotel, is a new 250-room oceanfront property opening in Winter 2015. The property, originally named the Nautilus Hotel, was designed in the 1950's by famed architect Morris Lapidus. SIXTY Hotels has designed and restored the hotel; instilling contemporary elegance while preserving key elements of Lapidus' design legacy.
Nautilus, a SIXTY Hotel captures and reimagines the era's sophistication, elegance and ease in design, programming and vibe. The complete transformation reflects a vision of residential living, while Lapidus' signature neo-Baroque designs that are synonymous with Miami remain – including the lobby's landmarked "stairway to nowhere," to the return of the infamous Driftwood Room and Lounge.
The Signature restaurant will offer seating for 200, as well as a private dining room for 14, while the salt-water swimming pool will be surrounded by cabanas and feature a playful lawn setting with Bolivian hammocks overlooking the beach, with private chairs for beach service.
The 250 guest rooms and suites feature 48 Inc Flat Screen, vintage-style mini bar chests, and custom artwork from notable American photographer Sante D'Orazio. Many rooms and suites feature spacious balconies with ocean views. A Penthouse will sit on top of the eighth floor, and includes two bedrooms, a dining area, kitchen, and a garden terrace.
Nestled in the heart of South Beach's most desirable neighborhood, Nautilus, a SIXTY Hotel is walking distance to some of the area's best galleries, theaters, boutiques, bars and restaurants. No doubt Nautlius will be a popular contemporary option to Miami's growing luxury hotel trade.
Find out more on the Sixty Hotels website.