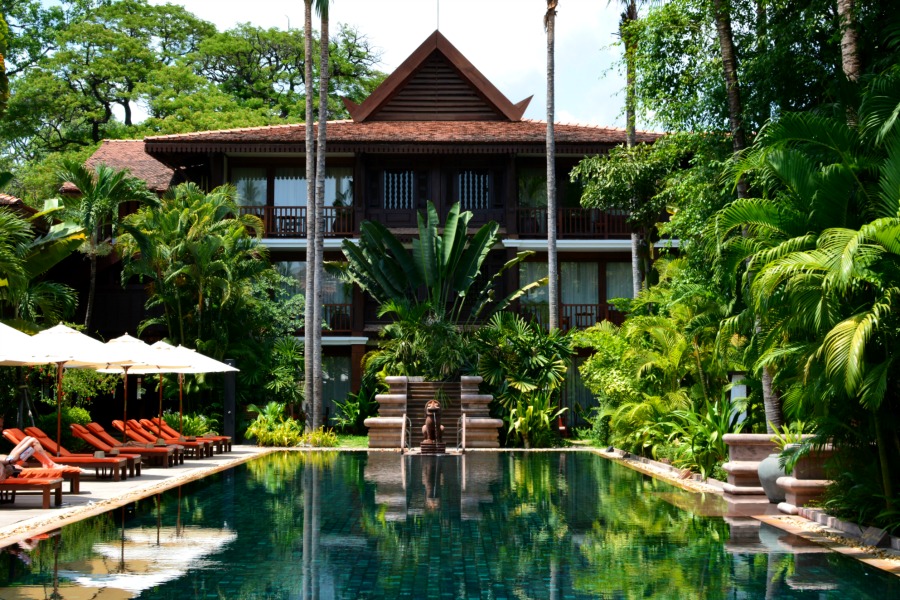 Siem Reap, and Cambodia in general, is known for being popular with backpackers and those on a budget, however, the luxury market in Cambodia is growing rapidly. Whilst in Siem Reap visiting the temples of Angkor, I was lucky enough to stay at the Belmond La Résidence d'Angkor, a tranquil oasis in the heart of Siem Reap and just a ten minute drive from Angkor Wat.
From the moment you step into the Belmond La Résidence d'Angkor, you feel as though you're walking through a small piece of paradise. Siem Reap is a small, dusty city, filled with backpackers sporting the same elephant trousers from the markets. La Résidence provides you with a luxurious haven of tranquility, filled with relaxing massages in a stunning spa, complimentary mojitos and chocolate covered bananas by the pool, and the kindest staff you will ever come across.
The rooms at Belmond La Résidence d'Angkor are in-tune with the traditional Cambodian surroundings, with dark woods and Cambodian artwork. We stayed in a twin Pool Side Junior Suite, which as the name suggests, looks out over the jaw-droppingly beautiful inky blue pool. The twin beds were comfortable, the linens crisp and luxurious, and the mosquito nets an extra reassurance against the already very low-risk of dengue and malaria.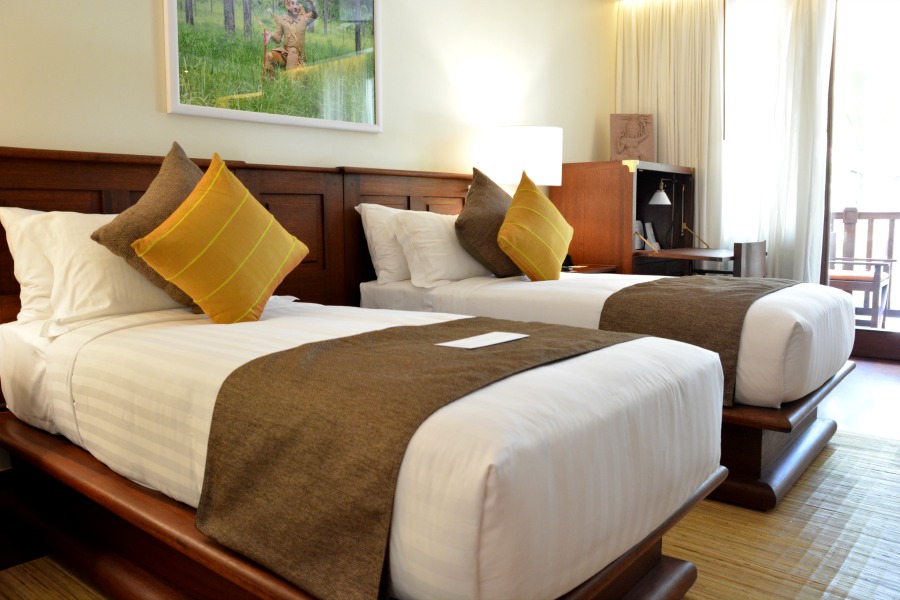 The bathroom features his and hers sinks, a choice of two different shower heads (rainfall of normal), and a large freestanding tub. Amenities include the usual such as shampoo, conditioner, make-up remover pads, and a sewing kit. But they also provide relaxing Khmer bath salts, and complimentary bottles of mineral water.
Breakfast was impressive, with a large spread of fresh fruit, meats and cheeses, a variety of fresh juices, and a slightly naughtier selection of pastries. If you'd like something more substantial, there's an excellent a la carte menu featuring the likes of waffles, pancakes, eggs benedict, and a full cooked breakfast.
With two restaurants and a Martini bar, you're able to dine in the hotel if you wish, however we do recommend you venture out into Siem Reap as there are some excellent dining options available, from luxury to street food.
For tours of the temples, the hotel can help with everything you may need. There are no taxis in Siem Reap, you have a choice between either a tuk-tuk or a private driver and tour organised through the hotel. Personally we chose the tuk-tuk as we find them rather fun, but a private car ensures you're able to travel between the temples in comfort with air-conditioning.
There is no doubt that Belmond La Résidence d'Angkor is a very special hotel, the staff are incredibly kind and the little touches they provide make your stay even more special. From the cooling towels they provide as soon as you walk through the door, and the constant smiles and warm greetings, to the complimentary sunscreen and mosquito spray they bring to you by the pool.
Find out more about booking a luxury stay at Belmond La Résidence d'Angkor.
Related: Read our article about Belmond Launching First 'Rolling Canvas' On A Train
---
By Catherine Lux