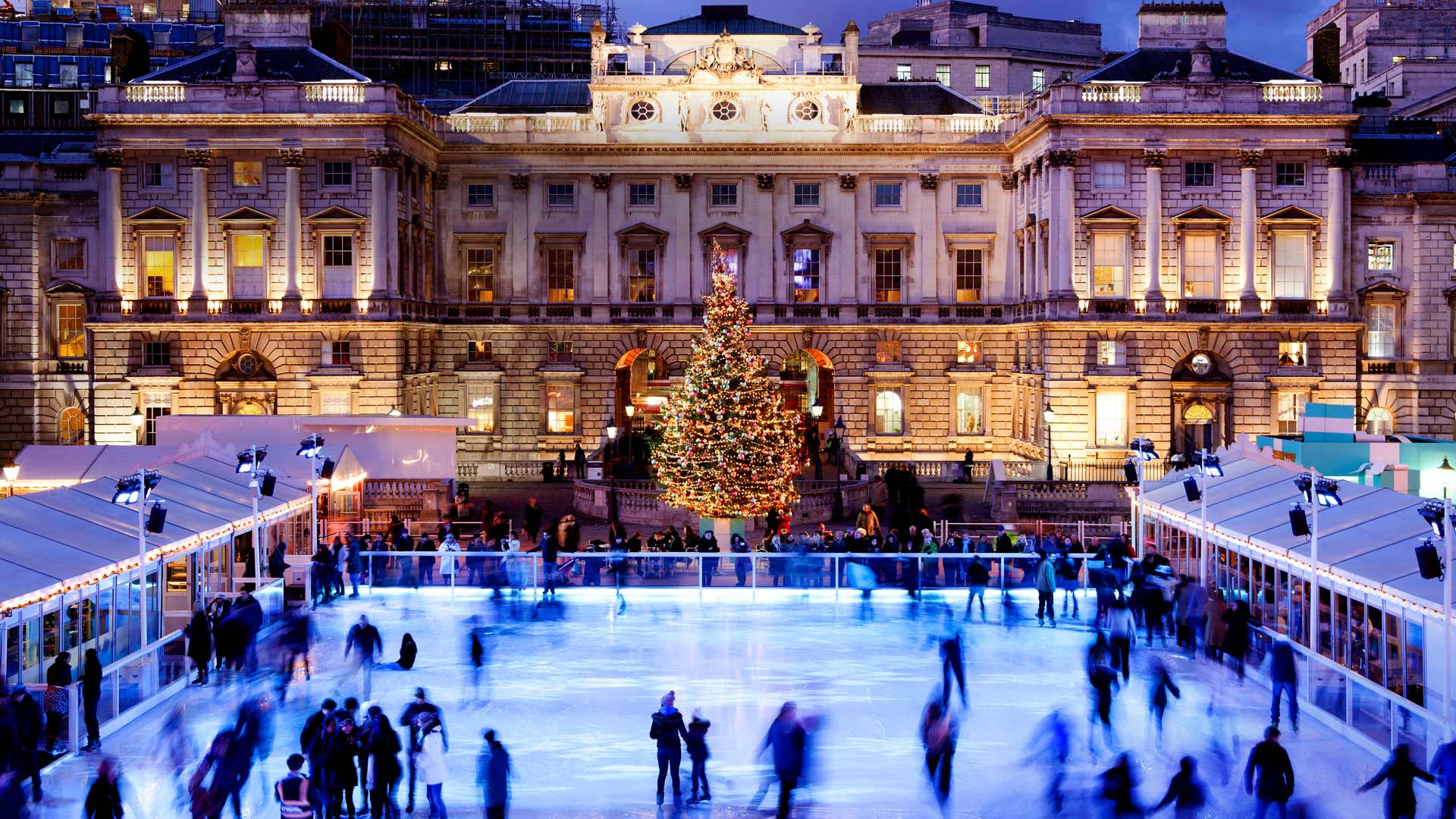 Over the past few years Ice rinks have become an increasingly popular way of welcoming in the Festive Season in London. Complete with twinkling Christmas lights, huge Christmas towering trees, ice bars, Club Nights, and even après-ski. There are even Penguin Clubs for the children and skate schools for the adults! To help you decide which one to go to this year, we've put together a quick rundown guide on the top ice skating rinks in London and surrounding areas this season.
Skate at Somerset House with Fortnum & Mason
Arguably the most famous ice rink in London, the Somerset House rink is the perfect location for anyone in central London. The tree is always magnificent, the tunes are pumping, and you can even do some shopping at the pop-up Fortnum & Mason shop!
Somerset House, Strand, London, WC2R 1LA (nearest tubes are Temple or Covent Garden)
Open from Wednesday 18th November 2015 – Sunday 10th January 2016
Adults from £8.85
Book online here.
Canary Wharf Ice Rink
This is one for those city workers needing a break from the desk. Head down to Canada Square Park for a quick skating session on your lunch break before running back to the desk. No one will ever know you've been acting like a child for the past hour!
Canada Square Park, Canary Wharf, London, E14 5AB (nearest tube is Canary Wharf)
Open from Saturday 31st October 2015 – Saturday 27th February 2016
Adults from £14.95
Book online here.
Broadgate Ice Rink
Another one good for the city workers wanting an after-work date or a team building activity!
Exchange Square, London, EC2A 2BQ (nearest tube is Liverpool Street)
Open from Monday 16th November 2015 – Thursday, 25th February 2016
Adults from £13.00
Book online here.
Natural History Museum
A fabulous choice for those of you who live in the Kensington area or any out of town visitors who are planning a visit to the museums. Stroll down the road and skate beneath the trees and twinkling lights in the grounds of the Natural History Museum.
Cromwell Road, London, SW7 5BD (nearest tube is South Kensington)
Open from Thursday 29th October 2015 – Sunday 3rd January 2016
Adults from £12.65
Book online here.
Hyde Park Winter Wonderland
The Hyde Park ice rink is brilliant for children and those wanting a go on the fair ground rides in Winter Wonderland! Warm up afterwards with a beer or hot chocolate in the German market.
Hyde Park, London, W2 2UH (nearest tube is Marble Arch or Hyde Park Corner)
Open from Friday 20th November 2015 – Sunday 3rd January 2016
Adults from £10.50
Book online here.
Westfield London Ice Skating Rink
The best choice for those wanting to be close to the shops for a Christmas shopping trip after your skating session.
Ariel Way, London, W12 7GF (nearest tubes are Shepherd's Bush, Wood Lane or White City)
Open Thursday 19th November 2015 – Sunday 3rd January 2016
Adults from £10.00
Book online here.
Hampton Court Ice Rink
The Hampton Court Ice Rink is perfect for history and architect lovers who want to skate amongst one of the most beautiful and historically significant palaces in the country!
Hampton Court, East Molesey, Surrey, KT8 9AU
Open from Friday 20th November 2015 – Monday 4th January 2016
Adults from £11.50
Book online here.