As it's Afternoon Tea Week here in London, we wanted to put together a guide for the quirkiest afternoon teas in the capital. One of Britain's most famous past-times, afternoon tea has seen a resurgence in recent years, and restaurants and luxury hotels across the country are making the most of its popularity by creating fascinating takes on the classic afternoon tea. We round-up our top twelve in London!
Art at Rosewood London
Rosewood London has to win the award for the most impressive afternoon tea creation, with their culture-based 'Art' afternoon tea. An exceptional concept, the tea is inspired by London's contemporary art scene and five of the most iconic modern artists including Yayoi Kusama, Damien Hirst, Alexander Calder, Banksy and Mark Rothko.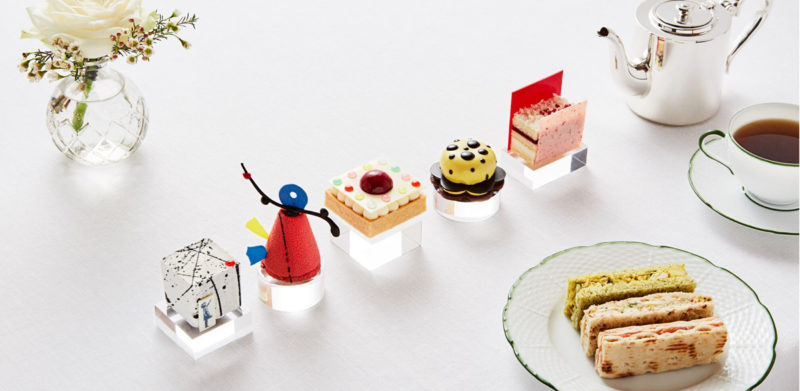 Pret-A-Portea at The Berkeley
Changing theme ever six months to mirror the changing seasons of the fashion world, we've previously reviewed the Jimmy Choo edition of the Pret-A-Portea tea. Currently the theme is focused on vibrant colours, graphic lines and ruffles, with a collection of cakes and delicate pastries inspired by the likes of Gucci, Miu Miu, Mulberry, and Stella McCartney.

Indian High Chai at Lalit London
The High Chai afternoon tea at the newly opened Lalit London is an Indian twist on the traditional tea. Featuring Paneer Kathi Rolls, Bangla Scotch Eggs, and Scones with Saffron Skrikhand, the High Chai also includes sumptuous Indian desserts.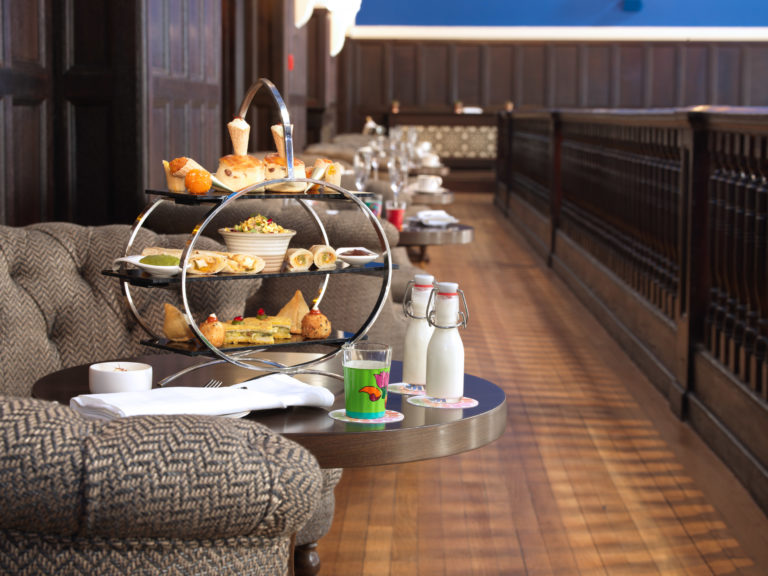 Tale as Old as Time at Kensington Hotel
The Tale as Old as Time afternoon tea at The Kensington Hotel is a whimsical take on the new Beauty and the Beast film, and has taken the Instagram world by storm. All of the savoury items and sweets are inspired by characters and scenes from the film, and is the ideal choice for an afternoon with the girls.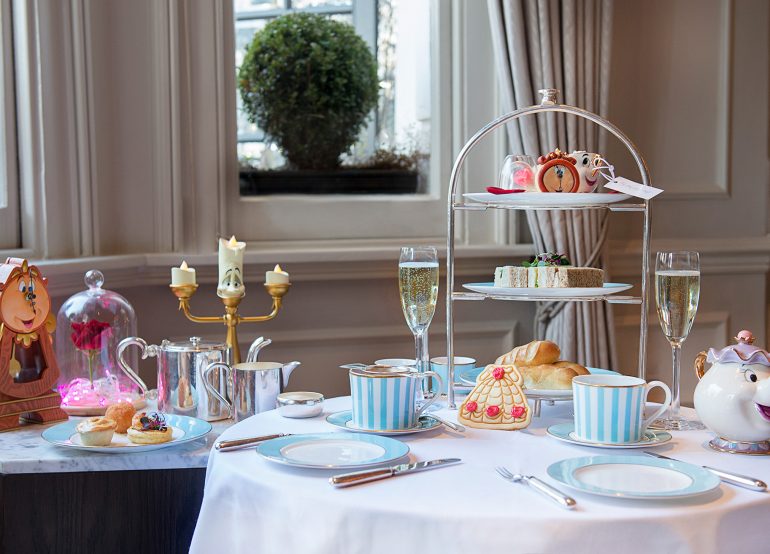 Vegan High Tea at Farmacy
For those avoiding meat and dairy, or even just intrigued by how a vegan afternoon tea works, Farmacy in Notting Hill offer this healthy(er) plant-based spread. Farmacy's afternoon tea will show you just how tasty vegan food can be!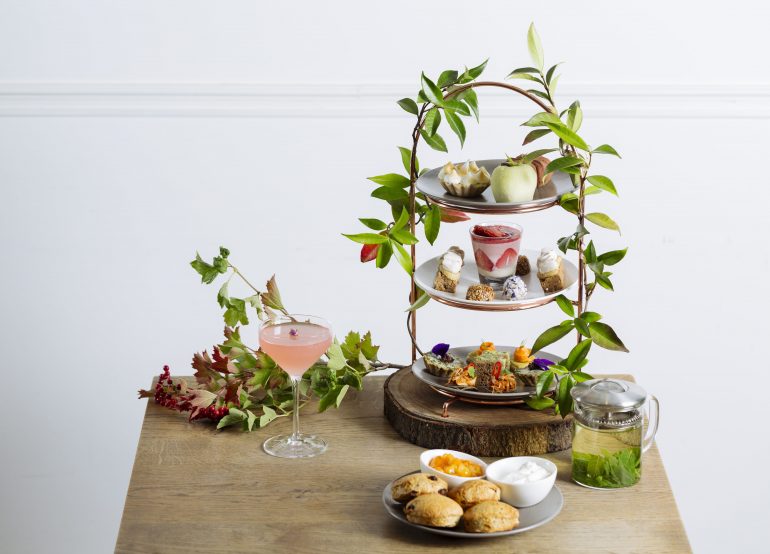 Tipsy Tea at Mr Fogg's
We reviewed the Christmas Tipsy Tea at Mr Fogg's  years ago, and we fell in love with it. Luckily they don't just serve Tipsy Tea at Christmas-time, all year round Mr Fogg's offer this excellent afternoon tea that encourages drinking copious amounts of gin cocktails out of a teapot. A superb option for a group afternoon tea!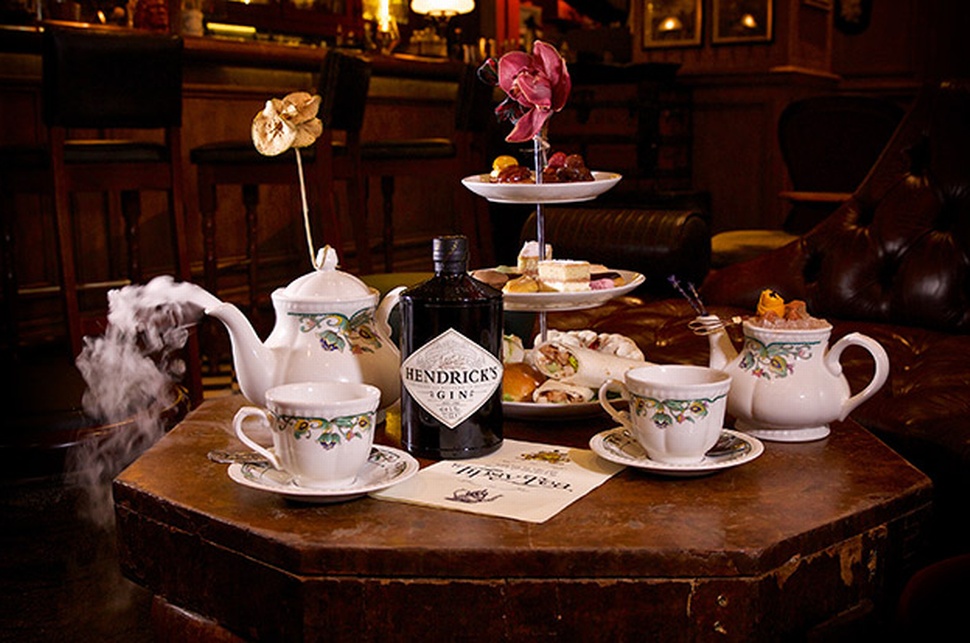 Green & Black's ChocolaTEA at The Montagu
Chocoholics rejoice! The Green & Black's ChocolaTEA at The Montagu hotel is one for that chocolate-experience bucket list. With delectable treats such as the Mini Burger with Chocolate-infused BBQ Sauce, Dark Chocolate Cupcake with Buttercream & Salted Chocolate DIY Garnish, and Raspberry & Dark Chocolate Layered Mousse with Fresh Raspberries, this afternoon tea is without a doubt one of our favourites of the year.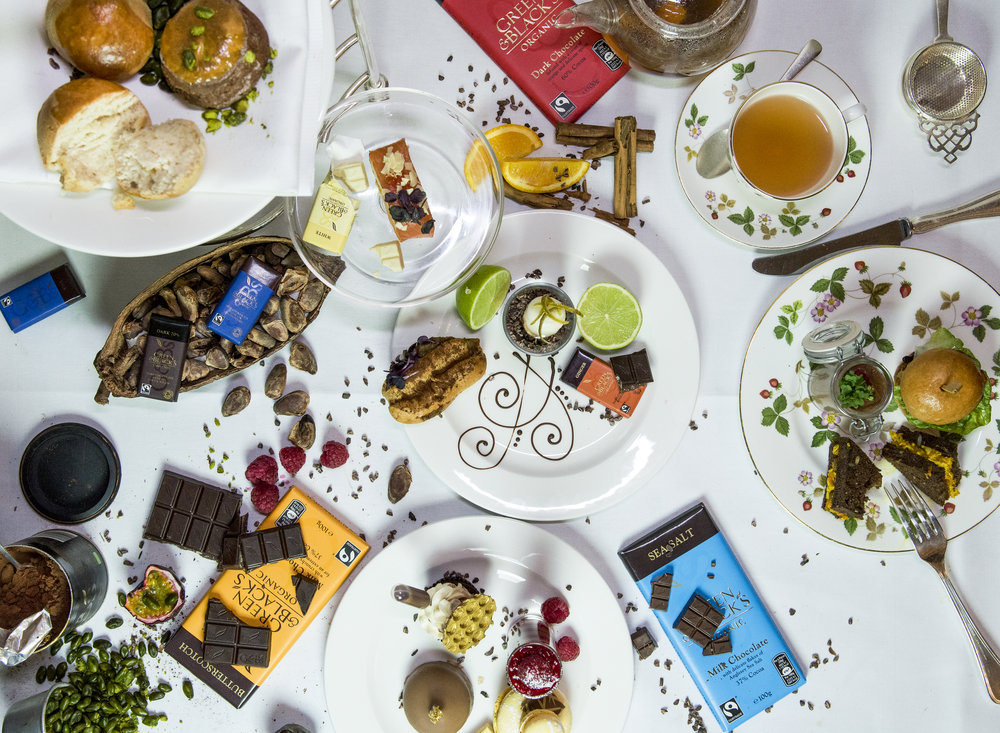 Mad Hatter's Afternoon Tea at The Sanderson
This is one of the most famous quirky afternoon teas in London and highly recommended if you enjoy all things Alice in Wonderland. The Mad Hatter's Afternoon Tea at The Sanderson hotel includes a menu hidden inside a vintage book, a moreish croque-monsieur stack, and delightful treats such as the Mocha chessboard gateaux.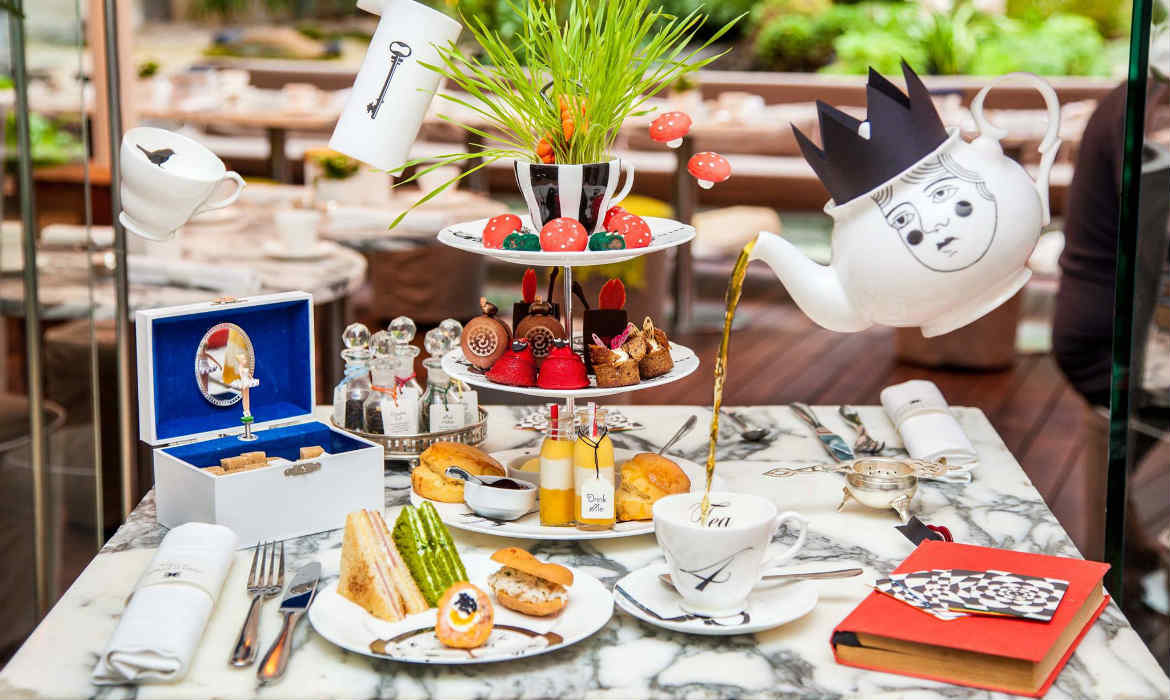 Science Tea at The Ampersand
A fun and educational choice for the whole family, the Science Tea at The Ampersand hotel features planets, dinosaurs, and chemistry concoctions fit for any school project. These treats are far more impressive than any school project however, and the flavours held within these works of art are just as impressive as their aesthetic.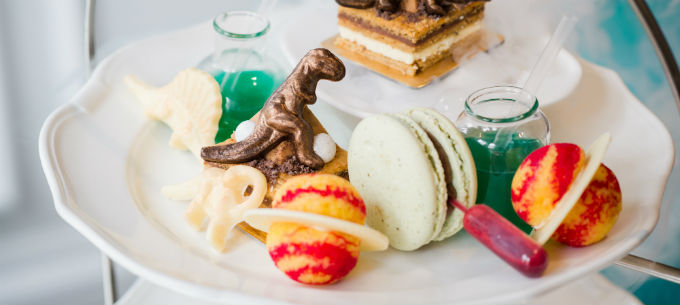 Gallery Tea at Sketch
The Gallery Tea at Sketch is likely the most instagrammed afternoon tea in the world. With the soft dusky pink chairs and achingly adorable text scribbled across the plates and cups it is a girlie girl's dream. The luxurious tea includes caviar and quail egg, pastries, macaroons, and a wonderful selection of teas.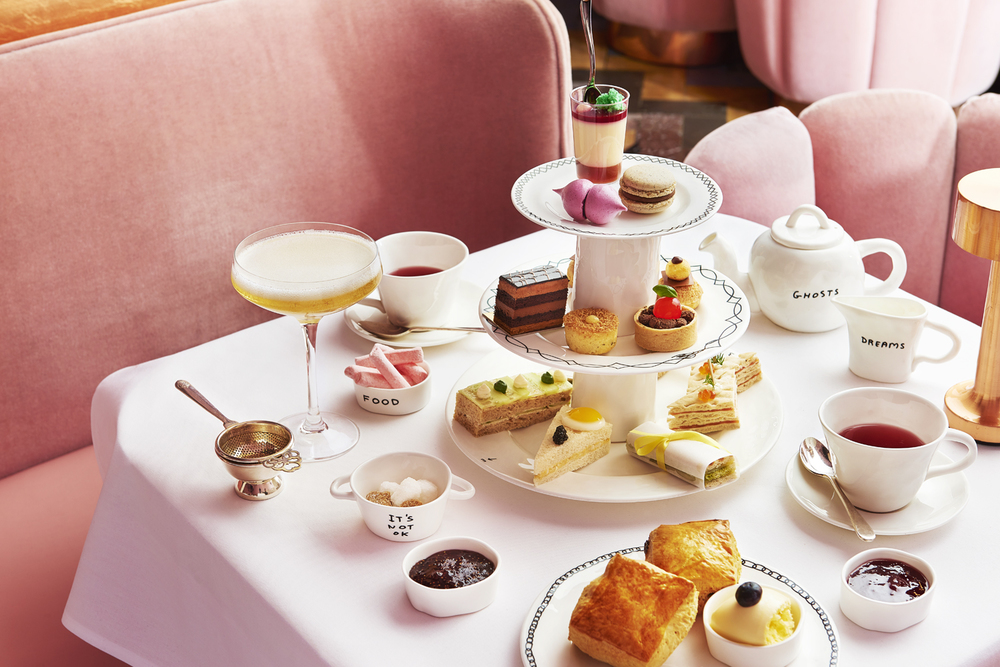 Charlie and The Chocolate Factory at One Aldwych
A playful take on Roald Dahl's famous tale, the Charlie and the Chocolate Factory tea at luxury hotel One Aldwych is a sugar explosion sure to ensure you leave on a (legal) high. The candyfloss and golden chocolate eggs were our favourite parts, and we're sure you'll enjoy it just as much as we did!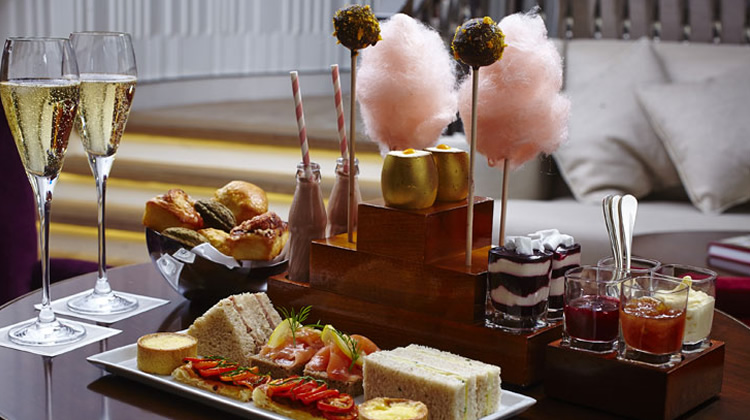 It's All In The Game at St James's Hotel & Club
It's All In The Game was created by Michelin-starred Executive Head Chef William Drabble, and is an ingenious tea that involves board games! The board games that inspired the creative afternoon tea include; Snakes & Ladders, Backgammon, Chess, Monopoly, Scrabble, Dominoes and Ludo, and all of them are available to play at the hotel.