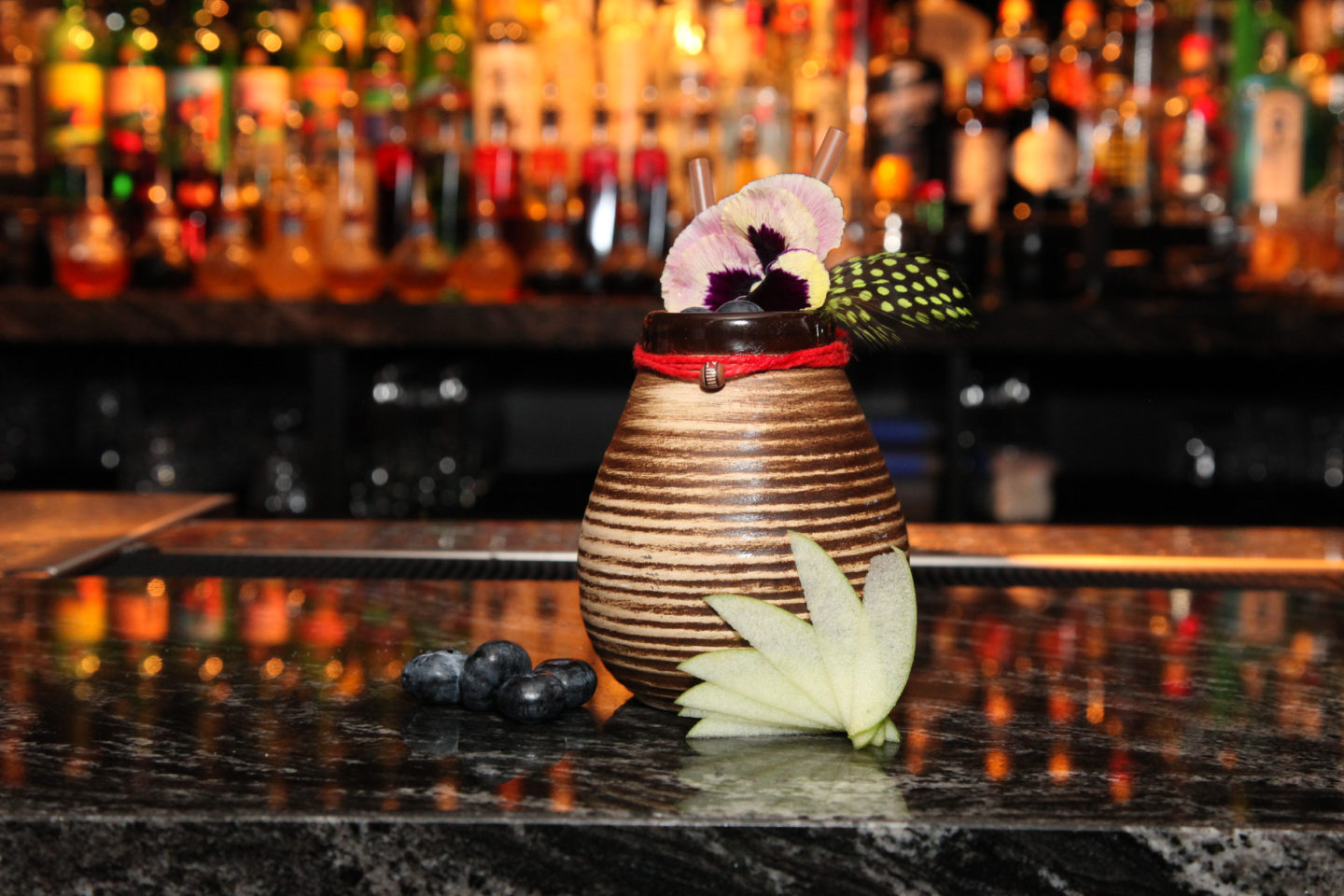 London's Dover Street is synonymous with imposing frontages. Large wooden oak doors with dimly lit facades account for many of the Mayfair area's prosperous residents. As you meander through the affluent streets you pass countless unassuming entrances that create a sense of wonder about what resides inside. Usually what is inside doesn't disappoint, such was the case with Dover Street's MNKY HSE.
The split-level Latin American restaurant and bar serves up everything you could possibly need in an evening.
Through the entrance and down into the lower ground floor there is a spacious dining area with large round tables for groups. Whilst on the ground floor there is a comfortable bar area with oversized furniture set amongst a backdrop of mood lighting and contemporary artwork.
Exceptional Latin American Food
Settling in on the ground floor in the invitation-only MNKY LNGE, it was clear MNKY HSE took pride in its menu offerings as the staff were more than happy to engage in conversation about their best cocktails and bar snacks.
Their bar bites selection contains a raft of Latin American sharing dishes from Grilled Padron Peppers, Prawn Ceviche Peppers, Chu-Toro Tartar and Prawns Tempura. We opted for a trio of bites – a Wagyu Beef Brisket that consisted of smoked Australian wagyu beef, guacamole and epice morita serviced on bite sized tortilla wraps, Octopus with avocado and poblano chilli sauce and the Poussin Rostizado, marinated in a spiced sauce with accompanying jalapeno peppers for good measure. Ideal for sharing, each dish was sizeable enough for two to enjoy.
With the live DJ serving up a relaxed Latin American spirit, the atmosphere mimicked the alcoholic creations. With a house cocktail list reflecting a South American vibe, piscos and mezcals feature heavily.
MNKY HSE's Cocktail Selection
After much deliberation and following a few clarifications from the friendly bar staff we settled on two of their botanical drinks to start. The Bloom, a cocktail containing merchant's heart pink peppercorn tonic, cracked black pepper, grapefruit twist and mint sprig and the Thomas Dakin, a gin based drink with fever tree tonic, orange twist and fresh coriander. Both refreshing accoutrements when paired with our bar bites.
MNKY HSE is known for its cocktails of which the highlights included the signature MNKY Business cocktail made with Ron Millonario XO reserve rum, tobacco liqueur, Vermouth and cherry wood smoke. The MNKY Business, a Peruvian-rum based take on the ever-popular Old Fashioned, is served in a laboratory-esq flask sunk into a dry ice pot for added dramatic effect.
If, after all the bar bites and cocktails you feel the Latin American spirit taking over, MNKY HSE has a regular rotation of guest DJs and live acts to keep the South American vibe going long into the night. Rumour has it that they even remove some of the dining tables so diners can stretch their legs to no doubt dance the rumba in true Latino style.
MNKY HSE, 10 Dover Street, Mayfair, London W1
---
By Edward Lumley
Edward Lumley is Editor-in-Chief for Of Wealth & Life magazine and a Freelance Men's Fashion Writer. Edward has written for publications such as FashionBeans, Harrods and a variety of online outlets specialising in Men's fashion for the past eight years.