Every December the who's who of the art world descend on glamorous Miami Beach for Art Basel. This year – the art fair's 16th year – a total of 268 galleries from 32 countries will exhibit from 7th December – 10th December. Entertainment-wise, Björk is set to DJ at Mana Wynwood, Duran Duran will perform at the Faena Theater, and Rockwell and 1Oak are back with another exclusive pop-up nightclub. We've put together the ultimate luxury guide to Art Basel Miami Beach 2017, including where to stay, eat, drink, party, and of course which exhibitions and fairs will be worth visiting.
Where To Stay in Miami Beach
We recommend W South Beach or Miami Beach EDITION. Both hotels are guaranteed to be filled with the art world's glitterati, and while W South Beach has W Hotel's unique contemporary designs, the EDITION is more for those who enjoy sophisticated luxury.
W South Beach
Known for being the place to party, and the place for contemporary art lovers, W South Beach never disappoints. Each room has an oceanfront balcony, and from the late night DJ sets to cocktails at Living Room, it's a fabulous place to spend the evenings or sip on a quick-tail (that's a quick cocktail, FYI) between exhibitions and events. And even better, you'll be surrounded by their impressive art collection with pieces by Andy Warhol adorning the walls.
Miami Beach EDITION
Miami Beach EDITION is a stunning lifestyle hotel known for its epic parties held in both their swanky pool, and their onsite nightclub, Basement. Their nightclub features a bowling alley and an ice-skating rink, meaning every event held there and every night out is never, ever, boring. As well as the extravagant nightlife offering, there are also a selection of restaurant concepts by Chef Jean-Georges Vongerichten, meaning you'll be well-fed no matter what hour it is.
Where To Eat
There's a plethora of fabulous restaurants in Miami, from old-school diners to the luxury and the elegant. Our team like a mixture of the two: luxury gastronomy for lunch and dinner and then retro diners for the hangover breakfast the morning after where you're less likely to bump into people you know (unless you're a Miami local, that is).
Cecconi's
Set in a gorgeous garden courtyard in Soho Beach Club, Cecconi's serve fresh pasta and Italian seafood in a classy setting for those with more refined tastes. We suggest trying a selection of the Cicchetti (the meatballs are to die for) and the lobster spaghetti to get a true flavour of the food at Cecconi's. Of course it should all be finished off with an Aperol Spritz to make you feel as though you really are in Italy.
4385 Collins Ave, Miami Beach, FL 
Pao by Paul Qui
Pao by Paul Qui is a modern Asian restaurant located inside the luxury Faena Hotel, and is the epitome of luxury dining in Miami. The dining room seating surrounds a Damien Hirst unicorn sculpture worth $6million, meaning you can mix your art with your gastronomy.
3201 Collins Ave, Miami Beach, FL
Big Pink
Big Pink is a retro diner owned by the legendary Myles Chefetz, and is without a doubt the most popular late-night dining spot in Miami. Open until 5am on weekends, the menu is huge, and while it may not be high-end it's character and food is just what you need after the Art Basel parties.
157 Collins Avenue Miami Beach, FL
Blue Collar
Similar to Big Pink, Blue Collar provides American comfort-food and is our favourite 'local's gem' for breakfast. There is nowhere more perfect in Miami for a casual and low-key hangover brunch, with the 'Brandon's Breakfast' being the most popular option amongst the AGLAIA Team.
6730 Biscayne Blvd, Miami, FL
Bodega
Bodega is a simple taco-stand on South Beach, but don't let the size fool you – a secret entrance leads you to nightclub that serve potent tequilas and dancing until the early hours. When you're ready for food simply walk outside and grab some of Miami's best steak chimichurri tacos.
1220 16th Street, Miami Beach, FL
Where To Drink
There are so many great bars in Miami you need to make the most of them, especially the Art Basel pop-up bars. We've listed our top four bars in Miami below for you to add to your list, but make sure to stop by any pop-ups you stumble across too!
1Hotel's Rooftop Bar
The swanky rooftop of 1Hotel is the place to start your Art Basel party experience. Head up there for a drink with a view before hitting one of the after parties of club events.
2341 Collins Ave, Miami Beach, FL
Employees Only
The Miami outpost of New York's famous speakeasy bar, you're guaranteed out-of-this-world cocktails mixed by the best barmen in town, and a round of complimentary chicken noodle soup at 4am.
1030 Washington Ave, Miami Beach, FL
La Côte at Fontainebleau Hotel
The glamorous oceanfront bar at the Fontainebleau Hotel has a relaxed, chic vibe, and is always full of beautiful people. Head there in the afternoon for a bite to eat, and stay for the cocktails. If you're staying at the hotel, don't forget a swim in the iconic pool!
4441 Collins Ave, Miami Beach, FL
Rose Bar at The Delano
Rose Bar is intimate and beautiful, with the entire bar a shade of pink. Truffle popcorn is popular here, as is the Golden Rose Champagne Cocktail.
1685 Collins Ave, Miami Beach, FL
Which Exhibitions And Fairs To Visit
This year is one of the best years yet for Art Basel Miami, and aside from the exhibition at Collins Park and the signature Art Basel fair at the Miami Beach Convention Centre, there are dozens of galleries and fairs happening around the city. Our top five recommendations include the usual stand-out fairs, as well as a couple of unusual and new exhibits.
Spectrum & Red Dot
More than 160 international artists and galleries are expected at Spectrum for this five day art fair. Like last year on admission ticket gains you entry to Spectrum Miami, ArtSpot Miami, and Red Dot Miami, as they're all in the same place (1700 NE 2nd Avenue). Spectrum will feature a stand-alone photo exhibition while Red Dot is a gallery-only show.
SCOPE Miami Beach
Founded by artist and gallerist Alexis Hubshman, SCOPE is back for another year, and is expected to see over 55,000 visitors walk through the fair over the six days of Art Basel Miami 2017. This year as part of SCOPE Miami Beach's Special Programs, you can expect to see a curated 40 foot installation from NBA All-Star Amar'e Stoudemire.  Stoudemire has created the project to bring the world of sport and contemporary art together, with the project being titled The Melech Collection.
Patricia Field's 'ARTFASHION'
It's back for another year with a pop-up shop open throughout December. Field's ARTFASHION came from the frustration with fast-fashion, and is a concept creating unique 'wearable art' pieces for customers looking for one-of-a-kind designs. Artists included in the project are; Scooter LaForge, Jody Morlock, ThesePinkLips, Suzan Pitt, SSIK, StudMuffinNYC, Suzanne Mallouk, Ben Copperwheat, and Hushi Mortezaie.
NADA
The New Art Dealers Alliance is a fantastic fair, and with over 100 exhibitors from 16 countries this year, it won't disappoint. NADA's goal is to showcase new or underexposed contemporary art, and always proves fascinating with some particularly interesting exhibitors. Please note that NADA is moving to the Ice Palace Studios in Miami this year.
Coral Gables Museum International Artist Series
The Coral Gables Museum's International Artist Series is running throughout Art Basel, with highlights including an exhibition of the works of Andalucian intrarealist master, Juan Antonio Guirado. Guirado's very first exhibition took place in Miami in 1956, and he experienced such a high level of success that he then went on to travel the world with his unique intrarealist pieces. You'll be able to view the original paintings, as well as experience Guirado's work through virtual reality presented by FLOAT STUDIO.
Which Parties To Get Yourself Invited To
Art Basel isn't Art Basel without a few parties thrown in, we round up the five most exciting events happening throughout the week in Miami.
III Points Art Basel concert series – Tuesday 5th December
Art Basel Miami is kicking off on 5th December with Icelandic icon Björk performing at the Mana Wynwood. It's the first time she's performed in Miami, so this is going to be one to see.
W South Beach Behrouz & Friends – Wednesday 6th December
W South Beach are throwing a party on Wednesday 6th December at their WALLMiami Nightclub, with Behrouz & Friends supported by Guy Gerber and Guy Laliberté.
Rockwell and 1OAK Pop-up – Thursday 7th December
The most anticipated party of this year's Art Basel Miami, Rockwell Nightclub have teamed up with notoriously glamorous NYC nightclub 1Oak to throw the pop-up party of the year.
Bombay Sapphire Artisan Series Finale – Friday 8th December
This exclusive invite-only bash is an annual party held by Bombay Sapphire to celebrate their Artisan Series competition finale. The party is being held at the old Versace Mansion, now called Villa Casa Casuarina, so is sure to be a glamorous affair.
Duran Duran at Faena Theatre – Saturday 9th December
Grammy-award winning Duran Duran are playing at the Faena Theatre in partnership with SiriumXM. This one is invite-only, so you'll need to know someone or be big in the art world to wangle an invite.
What To Carry
From Louis Vuitton's gaudy collaboration with Jeff Koons, to Dolce & Gabbana's stunning collection of Lucia handbags that are works of art in their own right. We suggest you carry something from the Dolce & Gabbana Lucia collection for day use; our favourite is the Caltagirone scarf-tie bag in pink. For night use the Saint Laurent Monogrammed Kate metallic-striped bag is classy yet has a splash of personality compared to the plain monogrammed YSL bags.
Purchase the Dolce & Gabbana Lucia Caltagirone Scarf-Tie bag for day use
Purchase the Saint Laurent Monogrammed Kate metallic-striped bag for night use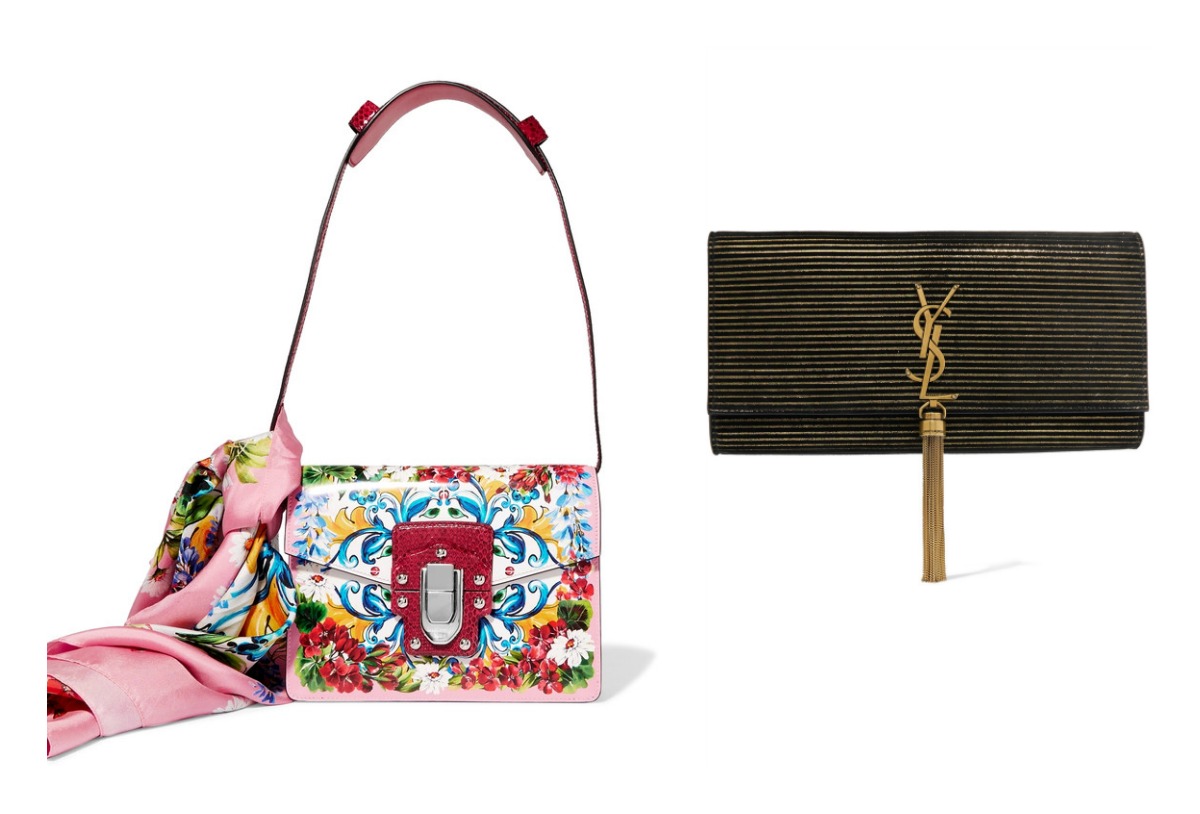 How To Buy Art Basel Tickets
Related Content