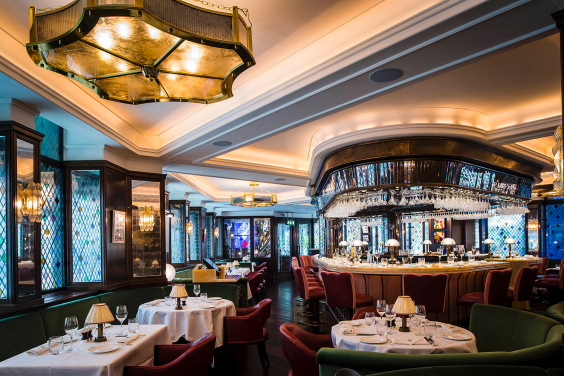 The Ivy. A name synonymous with celebrity culture. Before Chiltern Firehouse came along, The Ivy was the place to see and be seen. The main reason why Richard Caring bought Caprice Holdings, was because of the mystique surrounding the famous restaurant, and as it approaches it's 100th anniversary, he decided it was time for a facelift.
The old artwork, table linen and cutlery were all auctioned off via Sotheby's, with the £1million+ proceeds all going to the charity, Child Bereavement UK. Everything except the famous stained glass windows, a few pieces of artwork, and grand piano was replaced. The Ivy closed it's doors for six months, and the fans of their shepherd's pie were forced to go to The Ivy Market Grill or Ivy Chelsea Garden instead.
The new Ivy is a nod to the future, with the bar being brought into the middle of the restaurant to provide a dining bar similar to sister restaurant, The Ivy Market Grill. Though those who know the design team won't be surprised to hear there are similarities between The Ivy and The Ivy Market Grill, they have the same design team – The Martin Brudnizki Design Studio.
The old seating has been replaced by curved plush green banquettes, and four-seater booths, while artwork from the likes of Damien Hirst and Ian Davenport hangs on the walls.
The menu is largely the same, with a few new dishes to draw in those with different tastes. Rather than sticking to their very British menu, they have included Southern European and Asian influenced dishes, including Yellowtail tuna sashimi, pickled ginger, wasabi cucumber pearls (£14) and Corn-fed chicken breast with pumpkin pistou and mojo verde (£19).
The Ivy, 9 West St, London WC2H 9NE